The Yosemite Valley, from the Mariposa Trail,
Yosemite Valley, Mariposa County, Cal.
1865-66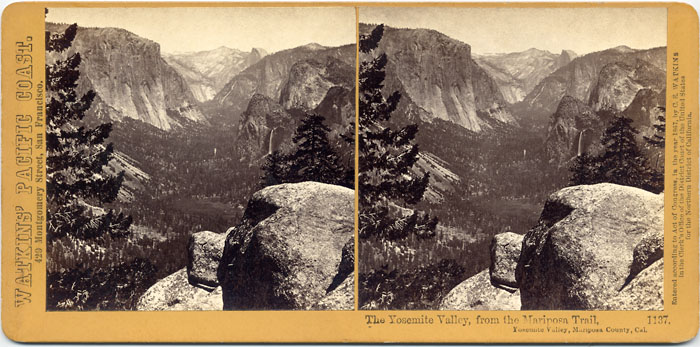 In order to have some income when his photography sales were slow, Watkins had joined the California State Geological Society. During this time, Watkins returned to Yosemite. His photographs were more than mere surveys of the geology before him. Watkins took some of his finest photographs during 1865-66. In this view of Yosemite from the Mariposa Trail, the composition is masterful: Half Dome, El Capitan and Bridal Veil Fall are beautifully framed. Once again, Watkins must have gone to extreme lengths to compose this photograph. Such a view would certainly have enticed visitors to come to Yosemite!
---
The contents of CarletonWatkins.org website are subject to
Conditions of Use
— Copyright © 2003-2021 Carletonwatkins.org