Interior Ophir Hoisting Works. The Cages.
1875-77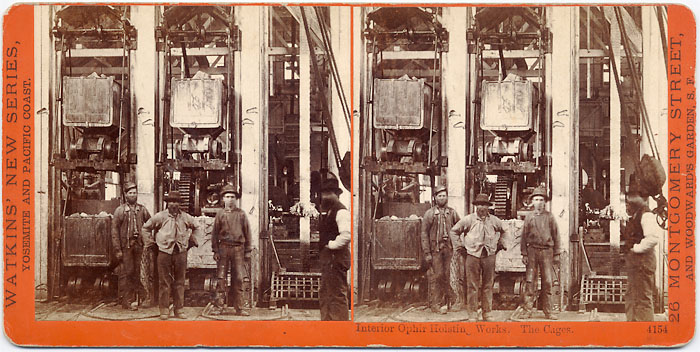 In this view, Watkins once again illustrates his ability to photograph occupational or industrial subjects and present it to us in an artistic manner. As Peter Palmquist describes it, the "machines are seen to be elegant constructions, subjects that merit treatment as still lifes." 1
Three miners are standing in front of the double stacked cages of the Ophir mine's enormous 3-compartment shafts. The silver mines in Virginia City were thousands of feet deep. Miners endured dangerous underground conditions with mine collapses and temperatures exceeding 120 degrees.
1Palmquist, Peter. Carleton E. Watkins Photographer of the American West. Albuquerque: University of New Mexico Press, 1983. xiii. Print.
---
The contents of CarletonWatkins.org website are subject to
Conditions of Use
— Copyright © 2003-2021 Carletonwatkins.org